Name: Niel DePonte
Organization: COGNIZART, by MetroArts Inc.
Annual Operating Budget: $250,000
Niel DePonte's interview with Suzanne Nance originally aired on May 2, 2020. Listen below.
How are the arts playing a role during this critical time?
The best the arts can do when theaters are closed is to create online content. As an educational organization, we are still hoping to hold our Kids Camp in July, but may postpone it a few weeks depending on the availability of the theaters. At that time, we may create some online content for the campers, ages 7-12.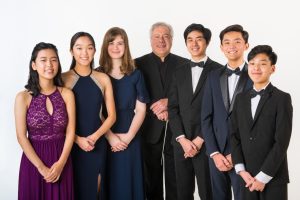 What has been the most notable / most unpredictable / most challenging impact of the COVID-19 pandemic on your organization? Biggest financial challenge?
We have been blessed with good timing. Our fundraising gala was held just before the shutdown and we hope that our kids camp can still go on in early July. We did have to move our annual Young Artists debut concert (co-sponsored with All Classical Portland) from July to late August. But we are hopeful that this can continue as well.
To date, what steps have you taken to mitigate that impact?
It has been a matter of contacting our sponsors and our students and keeping them informed of our plans regularly.
What kind of innovation in management has developed for your organization, and what challenges have you encountered when implementing new innovative ideas?
We have been able to keep all staff members employed and to date have not had to alter management techniques very much at all.
What are the short-term and potential long-term effects of this shut down for your organization and the arts in general?
This is a much larger question. For the newly named COGNIZART we hope we can hold our kids camp beginning July 6. We believe that our Young Artists Concert on August 28 will go off as planned, with some social distancing in place.
As for the arts in general, this is a dark time. I believe most large organizations will not be able to perform until October at the earliest. The financial issues around artist salaries and benefits for full-time artists will be challenging for managements to navigate, and freelance artists are really in dire straits. With financial uncertainty comes lower contributed income usually and that is another issue for non-profits. There will be fewer small organizations after the crisis ends, and the large organizations, especially symphony, ballet, and opera will take at least until 2022 to recover. And they may very well look different in size and scope.
What is a positive collaboration or initiative born as a result of this situation within your organization or that you've seen from your peers and colleagues in the arts industry?
I think the trick will be to establish new partnerships between organizations to share the burden of rebuilding and regrowth over time.
What is the biggest lesson learned as a leader during this crisis?
To take it one step at a time and to communicate with all stake holders.
Regarding the creative process, what has been a source of inspiration for you/your organization at this time or how has your creative process changed and evolved? What outlets or channels have you sought out to continue to express your creativity, personally and/or professionally?
For me, I keep looking for ways to develop projects that can be developed at this time for future presentation. This includes commissioning works for percussion and chamber music ensembles, outlining a book on creative process I have always wanted to write. Learning new solo/chamber repertoire for marimba.
What message do you have for the artists and fellow art leaders in our community today? Take it one step at a time. Connect to your community as often as possible however you can. Stay in touch with key stakeholders.
What question do you wish someone would ask?!
When will the federal government fund the states to support their ruined budgets, such that arts funding can flow from the states to the cities and then to the arts groups.
When looking to the future, what brings you hope?
The sun coming up in the morning. Which is to say, there have been worse times in the arts and if you wait long enough the need for the arts to offer solace and reflection and entertainment will come back, because art is inevitable.
---
About Niel DePonte:
Niel DePonte is the Founder and Executive Artistic Director of the recently renamed arts education non-profit COGNIZART, by MetroArts Inc. Founded by Mr. DePonte in 1993, he has done considerable research on the use of the arts for teaching cognitive strategies in the classroom. Cognizart's programs include the MetroArts Kids Camp for 7-12 year-olds, held each July at the Newmark Theater; the Young Artists Debut Concerto Concert, where young virtuosos are presented to the public with a professional orchestra (to be held August 28, 2020); The Arts Backstage program where at-risk youth are introduced to the many job opportunities within arts organizations; as well as teacher training programs and the development of arts integrated curricula for the classroom.
Whether composing or arranging; conducting ballet, opera, pops or symphonic repertoire or performing as a concerto soloist with major orchestras, Niel DePonte has gained a national reputation as one of his generation's most versatile musical artists. He is the Music Director and Conductor for Oregon Ballet Theatre (OBT) and the Principal Percussionist of the Oregon Symphony and was nominated for a Grammy Award in 2003.